This hall is used for exhibitions, lecture meetings, symposiums, etc. Special lights, a big screen, the public-address system are installed.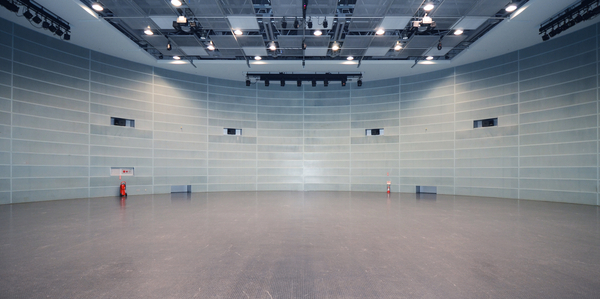 Large Exhibition Hall
(whole surface)
1/3
2/3
capacity
5000
(theater style)
1800
(theater style)
3000
(theater style)
floor space
4018m2
1475m2
2534m2
length
44.07m
44.07m
44.07m
width
89.66m
32.41m
56.48m
height
10.4m
10.4m
10.4m
load
5t/m2
5t/m2
5t/m2
surface of the floor
concrete
concrete
concrete
baton
baton
1(12m·360kg)
3(15m·450kg×2
18m·540kg×1)
baton for lights
1
3
lights
Halogen Lights (white)·Highca Lights (pale orange)
spotlights
1.5kw×12
1.5kw×24
1kw×14
light control circuit
3kw×12 circuits
3kw×24 circuits
imaging facilities

electrically-powered screen (300,250 inches), projector, video, video deck(S-VHS,digital), DVD·LD player, relay system, etc.
*Pictures and sounds may be sent and received between each hall.

electricity, waterworks
There are many pits in the floor and facilities for electricity and waterworks are installed within them.
loading entrance
5
2
3
Vehicles can be driven into it.
(Maximum dimensions of doorway: W5.1m×H4.8m)
waiting room
There are a dressing table, a toilet, a shower.
please note

Please set up tables and chairs which are lent by Kunibiki Messe by yourselves.
The sliding wall which separates Large Exhibition Hall shuts out sound and light.